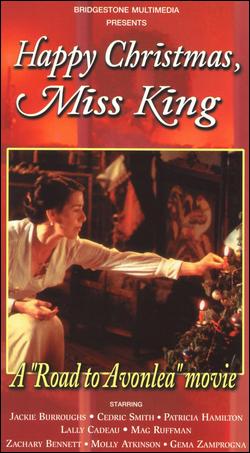 Happy Christmas, Miss King is a movie. The film appeared in 1990 to make people aware of the series.
The film is set at the time of World War I. In Avonlea, people are preparing for Christmas. Hetty King is planning a concert with the schoolchildren and learns that the arrival of a new pastor is imminent.
Felix King is a soldier in the war. His mother Janet King tries not to think of him, but one day Cecily King receives a message: Felix is missing. Hetty tries to comfort Janet. Other soldiers from Avonlea are also falling and Janet is increasingly opposed to the war.
When Hetty tries to focus on the concert again, she meets Wilfried Ainsley, a former student of[[[Avonlea school]]. But then it is determined that Hetty has a tumor and needs surgery. When Janet and Alec King visit Hetty at the Charlottetown Hospital, Hetty doesn't talk to Janet. She worries about Felix and thinks he wouldn't have become a soldier without Hetty, who persuaded him.
All the inhabitants of Avonlea want to help Hetty. Felicity King studies the concert with the students. Hetty's surgery is successful and her tumor turns out to be benign. Wilfried Ainsley visits her in the Hospital of Charlottetown of Charlottetown and tells her that he will take care of the concert.
The concert is very successful and at Christmas dinner the King family comes together again and gets along. Felix returns to Avonlea healthy, too.
Community content is available under
CC-BY-SA
unless otherwise noted.